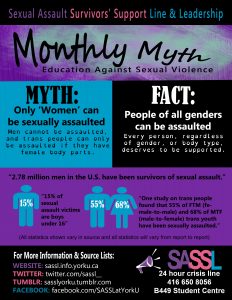 (click to enlarge image)
This is SASSL's monthly myth for January! Here are the supplemental information and statistics.
Definitions:
Cis: Someone whose gender identity matches the gender that they were assigned at birth (ex: a person born with a uterus and vagina who identifies as female in a culture where a uterus and vagina are equated with female gender identification)
Trans: Someone whose gender identity does not match the gender that they were assigned at birth. (ex: a person born with a penis and testicles who identifies as female in a culture where a penis and testicles is equated with male gender identification)
The term 'trans' in many cases also includes people who identify their gender on a spectrum outside of just "male" and "female" (ex: someone who identifies as gender queer, meaning that they identify as both male and female, or neither male nor female) but keep in mind that some people prefer not to be categorized as cis or trans.
MYTH:
Only 'women' can be sexually assaulted – men cannot be assaulted, and trans people can only be assaulted if they have female body parts.
FACT:
People of all genders are sexually assaulted – Everyone, regardless of gender, deserves to be supported.
Although the majority of sexual assaults are against women and trans people, this doesn't mean that assaults against all other genders do not happen or that these assaults do not matter.
Everyone deserves to be supported and heard regardless of gender identity. Violence is something that can be committed against anyone, no matter what their body is like, who they see themselves as or what their other characteristics are.
Sexual assault is directly linked to gender oppression, and as a result, women and trans people are assaulted more often than cis men. Sexual assault is also connected to other forms of oppression, including but not limited to, race, ability, class, and sexuality. In our society, people who face these oppressions mentioned above are more likely to experience violence, especially if a person belongs to more than one oppressed group. This means that gender plays a major role in affecting who is sexually assaulted, however it is not the only factor to be considered when studying these issues. For instance, "two-thirds (67%) of homicide victims [are] transgender women of color" (National Coalition of Anti-Violence Programs, 2013). This is a result of transphobia, sexism and racism.
Power imbalances are almost always present in cases of sexual assault and other forms of voilence. Quite often these power imbalances are related to gender, which is why most assaults are committed by men against women (Information for Canadian Victims of Sexual Abuse, 2014). But, this is not the only power imbalance that exists in our society, which can be present in other cases of sexual assault. All cases of sexual assault deserve attention and recognition, even if they do not fit the norm.
Many people, for example, believe that a cis female cannot sexually assault a cis male, because of the belief that cis men need to be sexually aroused in order for intercourse to be possible. However, purely physiological arousal can be achieved under emotional duress such as anger, fear, and pain, even if the person does not wish it. This is true for cis men's bodies, as well as all other body types (Greenberg, Bruess and Haffner, 576; Lips, 234). Forced sexual intercourse is also not the only form of sexual assault. Any unwanted sexual activity is sexual assault.
**Disclaimer: Due to the low number of Canadian Statistics available, some of the stats used here are American. The stats may differ due to the fact that Canada and the US have different legal definitions of rape and sexual assault, and different source populations to work from.**
STATISTICS:
"2.78 million men in the U.S. have been survivors of sexual assault."
(U.S. Department of Justice, National Institute of Justice, 1998)
"In 2003, 1 in every 10 sexual assaults was on males."
(U.S. Department of Justice, Bureau of Justice Statistics, 2003)
"One study on trans people found that 55% of FTM (female-to-male) and 68% of MTF (male-to-female) trans youth have been sexually assaulted."
(Clements et al. 1998)
"83% of women and 32% of men with developmental disabilities in the study sample had been sexually assaulted."
(Sobsey and Varnhagen, 1990)
"8% of women and 7% of men reported some type of violence by a common-law or marital partner in the 5 years preceding the survey. Of these, 20% of women and 3% of men reported being victims of at least one incident of sexual assault.
This is approximately 138,000 women and 14,000 men who were sexually assaulted by a spousal partner over the 5 year period preceding the study."
(Juristat, General Social Survey, 1999)
"15% of sexual assault victims are boys under the age of 16"
(Information for Canadian victims of sexual abuse, 2014)
SOURCES:
Greenberg, JS., Bruess, CE., & Haffner DW (2000). Exploring the Dimensions of Human Sexuality. Sudbury, MA: Jones and Bartlett Publishers.
Clements, K., Marx, R., Guzman, R. et al. (1998). Prevalence of HIV infection in transgendered individuals in San Francisco. XII International Conference on AIDS, Geneva, Switzerland.
Information for Canadian Victims of Sexual Abuse (2014). Sexual Assault Statistics in Canada. [web log post] Retrieved from http://www.sexassault.ca/statistics.htm
Juristat General Social Survey. Sexual Offences in Canada: A Profile of Criminal Victimization. 23: 6. pp. 6.
Lips, HM (2001). Sex & Gender: An Introduction (4th ed.). Mountain View, CA: Mayfield Publishing Company.
National Institute of Justice & Centers for Disease Control & Prevention (1998). Prevalence, Incidence and Consequences of Violence Against Women Survey. Retrieved from https://www.ncjrs.gov/pdffiles/172837.pdf
National Coalition of Anti-Violence Programs (2013). Media release. Retrieved from http://www.avp.org/storage/documents/2013_mr_ncavp_hvreport.pdf
Sobsey, D. and Varnhagen, C. (1990) Sexual Abuse and Exploitation of People with Disabilities: A Study of the Victims. Ottawa, ON: National Clearinghouse on Family Violence, Family Violence Prevention Division, Health Canada.
U.S. Department of Justice (2003). 2003 National Crime Victimization Survey. Retrieved fromhttp://www.bjs.gov/content/pub/pdf/cv03.pdf